Video/Song of the Day:
"Freestyle Rap" by Auralnauts:

And since we're talking about Bane...
I am just going to say this: I hate how 9/11 has become Christmas for Patriotism. Yes, the attacks were fuck horrible and it was a terrible moment in human history.
But it feels like today has become a fucking holiday for Nationalism. For people to "Thank those who lost their lives in service to their country" that day.
As if the Cops, Fire Fighters, Soldiers and Citizens who die every day mean nothing because their deaths aren't grand enough to get good ratings on cable news.
I am so sick of the "No Act of Terror Can Destroy America's commitment to Freedom" schtick from every Talking Head & Politician.
We as a nation must stop using September 11th as a justification for every shitty thing we've done and continue to do.
 

So, I am not going to take part in any of that crap today.
Instead, here is a funny video:

If you want to feel bad about something, feel bad about this.
Richard Kiel, the guy who played Jaws has passed away:
Song of the Day:
Prince EA - Why I Think This World Should End
SONG OF THE DAY
KENJI KAWAI - NIGHTSTALKER (From the Ghost in the Shell Soundtrack)
 
---
THE BROWNS
 

Well, The Browns didn't look too bad yesterday. Hell, they almost won.
(How many times have I said that in the past 15 years.)
They got OWNED by Pittsburgh for the first half but they ruled the second half.
They literally lost in the last 10 seconds of the game.
No matter how good they looked though, they still lost 30-27.
If Cleveland can figure out how to play like they did in the
second half all season long, they may acutally kick some ass and
win more than 4 games this year.

Speaking of kicking, did you see that punt return Karate Kid shit
Antonio Brown pulled on The Browns Punt Kicker Spencer Lanning?

Did Antonio Brown watch this scene from Necessary Roughness before taking the field yesterday and think "I wanna do that!"
Here is my meme on the subject:
---
FAN CASTING

Dreamworks Studios is working on a live action adaptation to
Ghost in the Shell.
Personally, this scares the shit out of me.
Especially when you consider previous Hollywood live action adaptations
(The Last Airbender & Dragonball: Evolution).
The original Ghost in the Shell film is one of my favorite movies,
certainly my favorite Anime of all time.
So I am terrified that Hollywood will whitewash it and turn it into a shallow & meaningless guns-n-boobs action flick.
I know I shouldn't be so cynical, but based on what info has come out about this movie so far, things aren't looking good: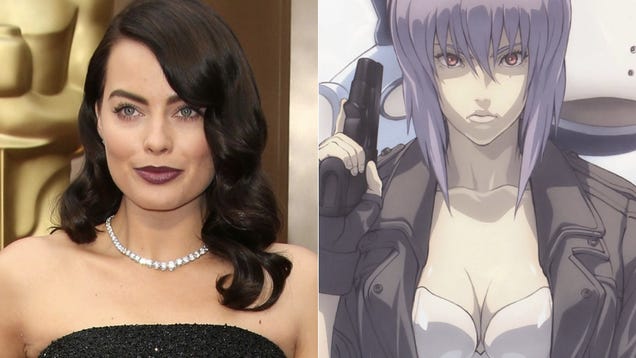 "Margot Robbie is in talks to lead DreamWorks' live-action adaptation
of the 1995 hit anime movie Ghost in the Shell"
No offense to Margot Robbie, but COME ON HOLLYWOOD.
I've decided to do my own "Fan Casting" for the film.
I could go on for hours the reasons behind my choices.
But let's keep this simple. Each actor has exhibited a trait in one of their films that made them seem right to me for the character I "cast" them as.
(Damn, that sounds so pompous)
So here are my cast choices for a Hollywood Live Action Adaptation
of the Ghost in the Shell:
Now, I think Idris Elba would make an AWESOME Batou, but if people freaked out and started calling this Pacific Rim 2 because I picked Rinko Kikuchi to play The Major, then I would cast Jason Clarke as Batou but still use Idris Elba somehwere in the movie because he is my all time favorite on screen cop (Luther).